Kelly's Shenanigans Page:
See also: You know that scene in the old movie where someone says: Hey, my uncle has a barn… we could put on a show there! Like that, only more hallucinatory…
Over the past few years I've occasionally gotten the chance to step out of my author role and return to my roots as a performer—my degree is in theater, and my background is improv. This grows out of the fact that I am fortunate enough to have a number of co–conspirators and a tendency to say yes when someone comes up with a bizarre idea for performance or photographic art. Below are most of the examples to date.
THE LION THE WITCH AND NEIL GAIMAN'S LAMPPOST
This happened when Neil's family bought him a lamppost to put out in the middle of his woods a la The Lion, the Witch, and the Wardrobe. Because it's Neil telling a story, I think I will defer to Neil on what happened next, though I will post a couple of Matt Kuchta's marvelous photos from the shoot
THAT'S SNOW DRAGON IT'S A MADCAP ADVENTURE
So, time goes by, and Matt Kuchta, our photographer for the Narnia shoot, said "We should build a snow elephant in Neil's yard while he's away, you know, as a surprise." To which I, looking out at said yard, responded "Elephant, hell. Dragon!" So, with a ton of help from a variety of suspects, we did. 200+ feet of dragon. And, because Matt, we filmed it all in time lapse which can be found here. My original post on the subject. And, Neil's post on facebook.  Pics or it didn't happen: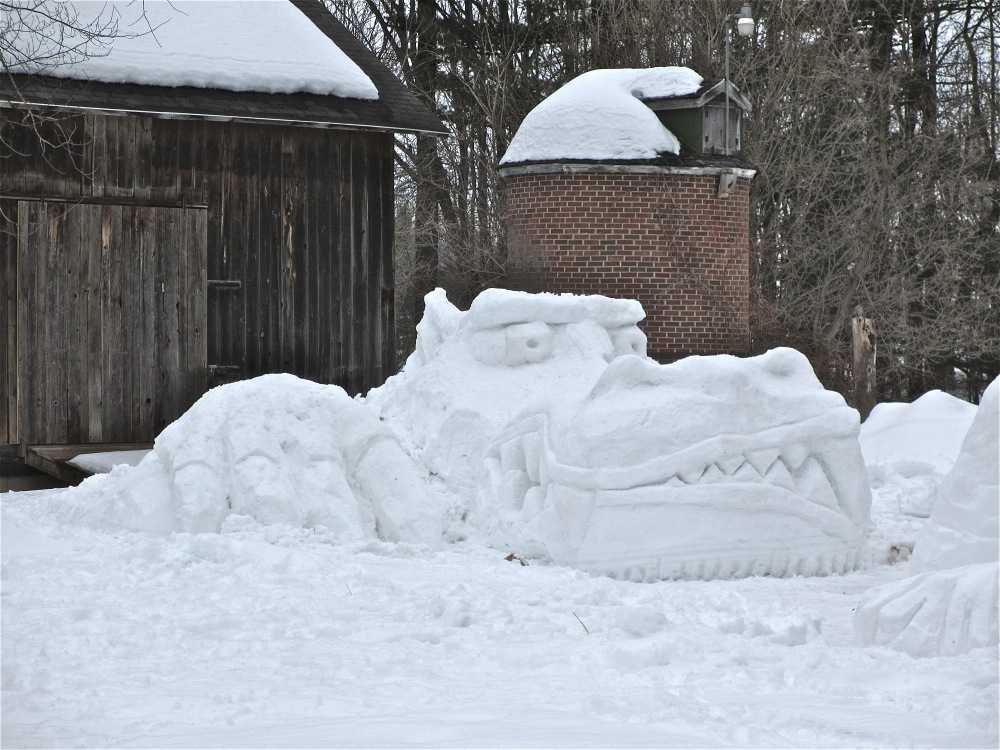 Photo: Kelly McCullough
Which looks like this from above (230 feet from nose to tail tip):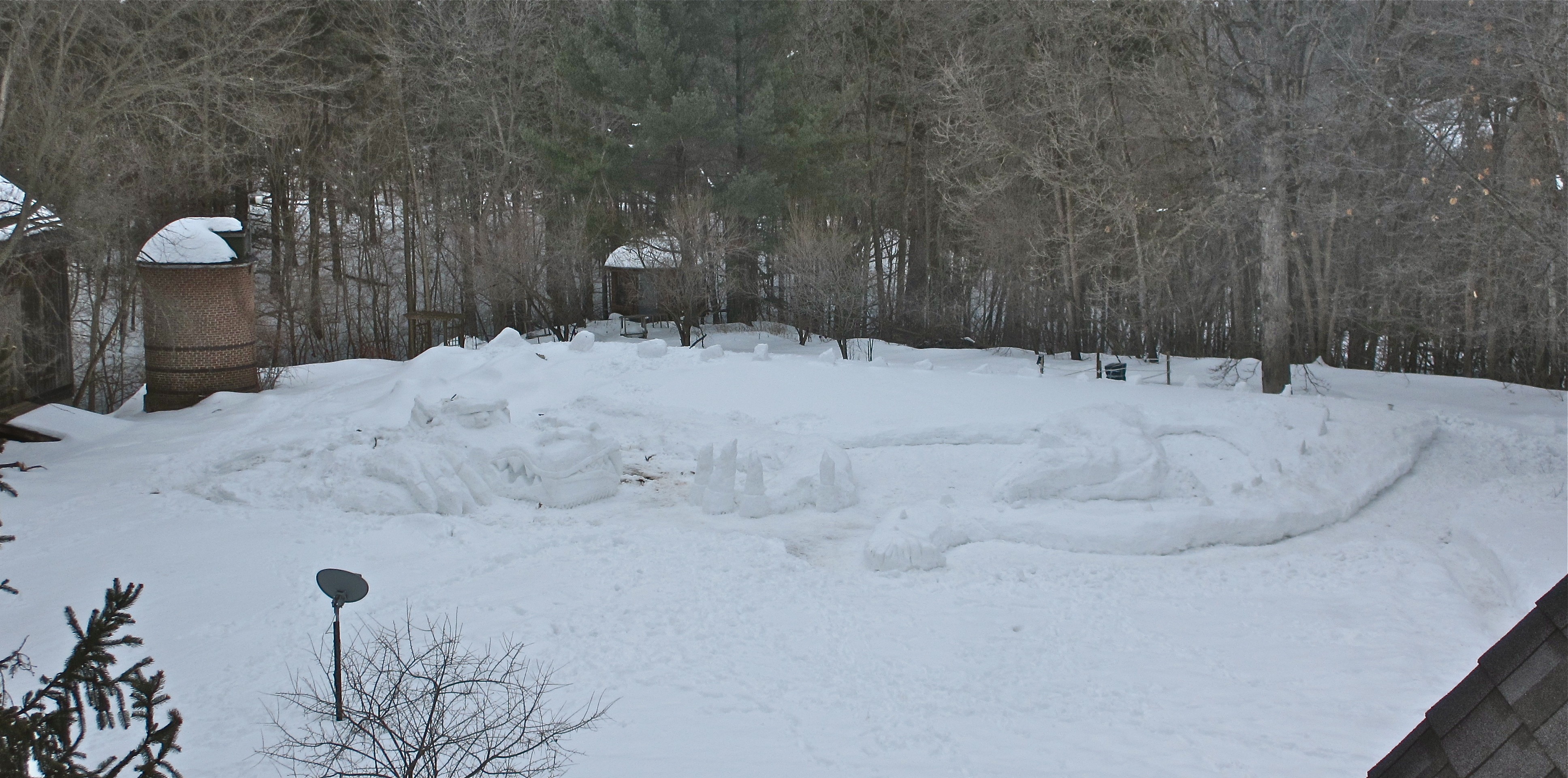 Photo: Kelly McCullough
And like this, with yours truly in the Vallejoesque role of the slave girl being rescued by the heroic barbarian…or something like that: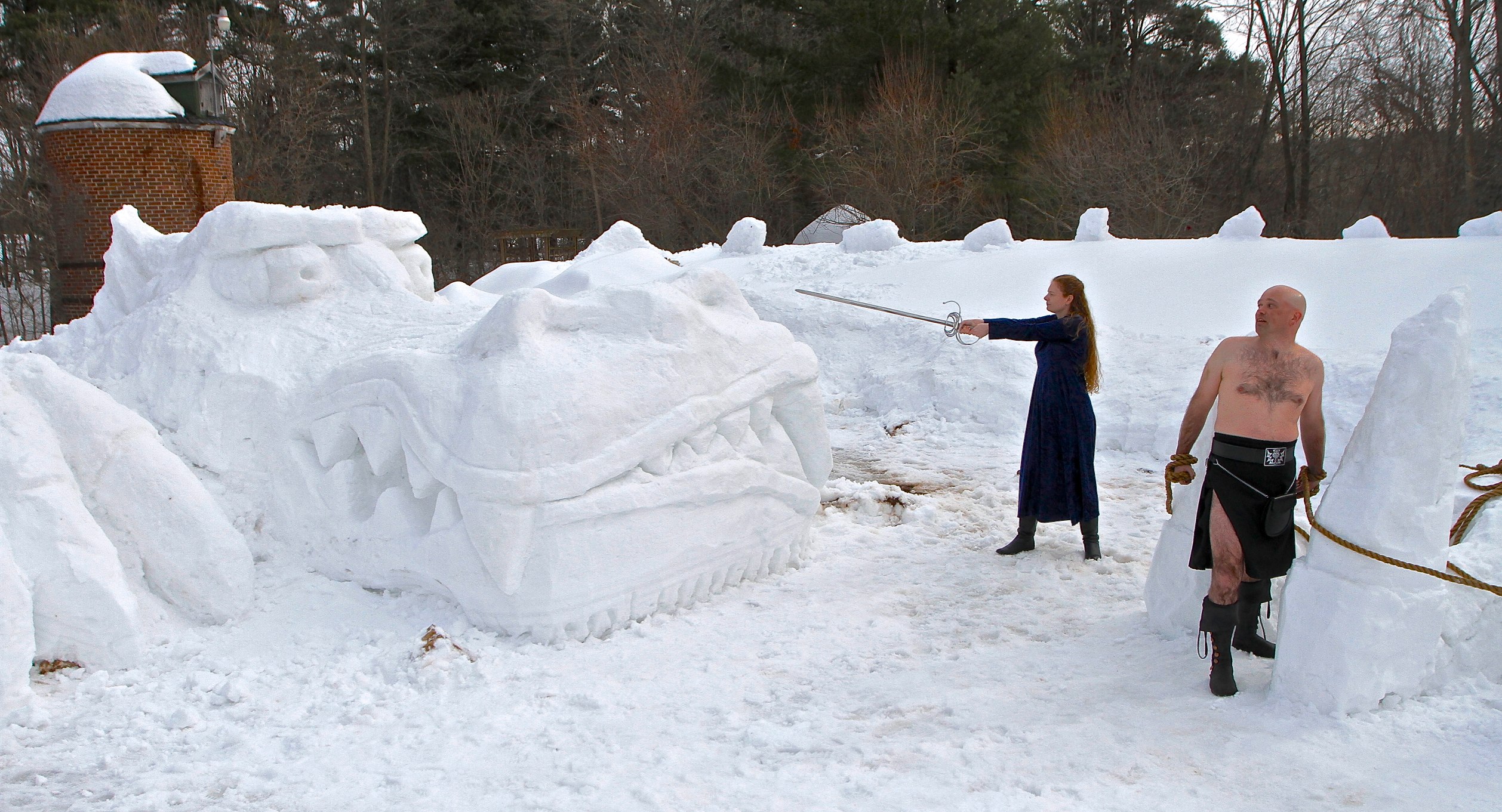 Photo Matthew A Kuchta
Or the filmic version of the construction (Video link for those who can't see the embed):

(click on space above if video doesn't appear immediately)
Building the Snow Dragon from Matt Kuchta on Vimeo.
And it's inevitable demise…
From Flake to Lake: The Birth, Life, and inevitable Death of a Snow Dragon from Matt Kuchta on Vimeo.
More of Matt's marvelous photos of the process can be found at his Flickr set.
SNOW MOTION VIDEO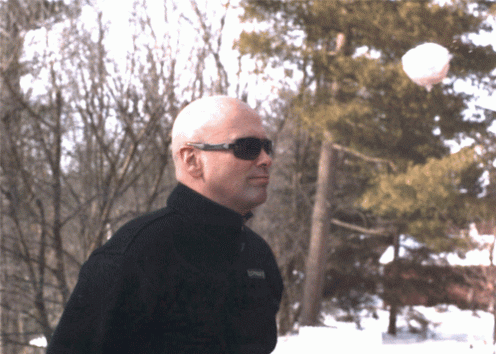 In which I get smacked in the face with snowballs in super slow motion (along with Kyle Cassidy and Dilhero) because high speed camera and SCIENCE:
SnowMotionScience from Matt Kuchta on Vimeo.
THE FLYING MCCULLOUGHS
My wife Laura and me  in full formal wear jumping on a trampoline for our anniversary. All photos by Matt Kuchta. Full flickr set here.
The Final Shot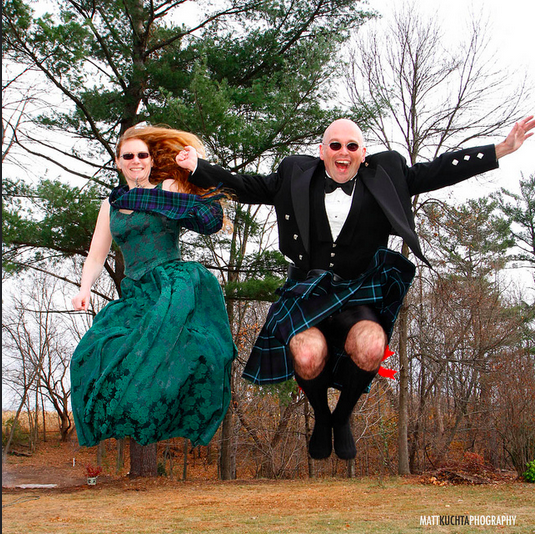 Near miss.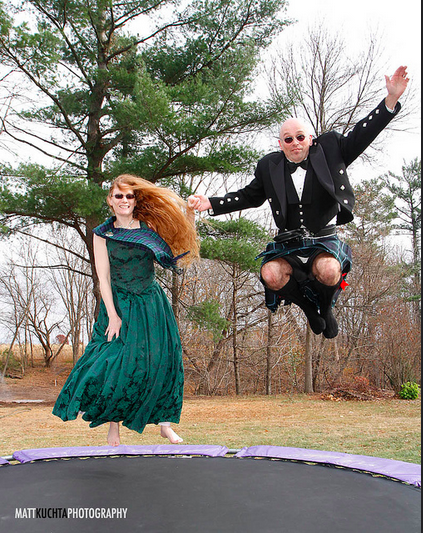 All fall down.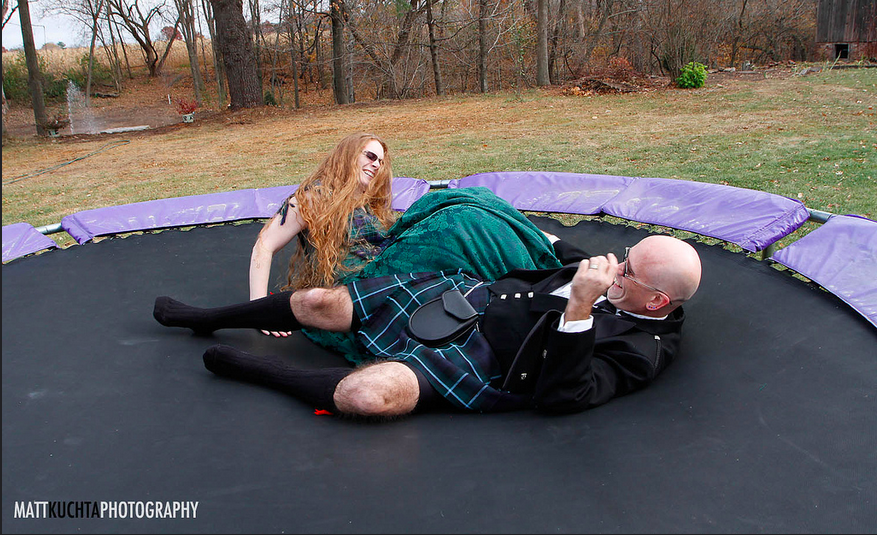 SCENES FROM THE SCHOOL FOR SIDEKICKS BOOK LAUNCH
When I launch a book, I really launch a book… These are some of the videos we made for the launch of my first middle grade novel. Also, the original post.
CAMEO WITH EXPLODING RUBBER DUCKIES
This was a thing entirely planned and organized by Matt Kuchta with my participation largely confined to spare hands and a cameo or two. Rubber ducks, high speed cameras, a trashcan full of water, and liquid nitrogen, what more could you ask for?
Rubber Duck Volcano from Matt Kuchta on Vimeo.
Moar ducks, plus actual science…
Rubber Duck Eruption Physics from Matt Kuchta on Vimeo.
CATS AND KILTS AND POINTY OBJECTS, OH MY
Just because. Photos by Sean M Murphy Photography.
WATCH THIS SPACE FOR MORE HIJINKS
That's all for now, but not forever.